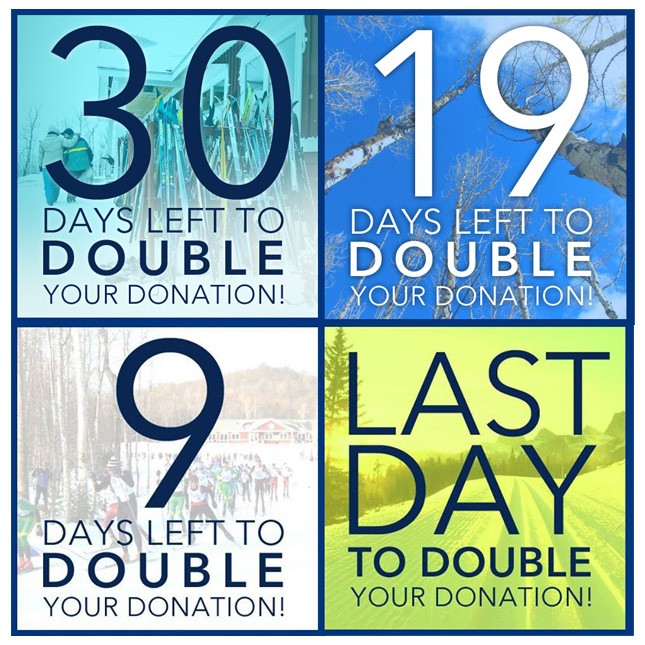 Recently, we created a series of "count-down" graphics to help support our client the Maine Winter Sports Center. Around 16 images "tiles" were designed to promote a fundraising campaign that had a specific closing date and incentive. By scheduling the posts to launch at seemingly random times and dates over the course of a month on Facebook we developed a sense of urgency and awareness that helped the MWSC raise over $355,000 in that time!!
The bold, beautiful graphics alternate bright colors and a large clean, legible font picked intentionally for easy eye-catching and social media sharing and "liking". To accompany the graphics we wrote clever calls to action and you have some social media success with relatively little prep time!
About MWSC and the campaign: The Maine Winter Sports Center has developed a global reputation for the quality of our programming and the impact we are having in Maine. For the past 15 years the financial support of the Libra Foundation has made that all possible, but now it is time for us to develop a new funding model. A $400,000 matching gift has been offered and we have until April 30 to take advantage. This donor will match every dollar you give with one of her own, up to $400,000. This is a unique opportunity for us and can help ensure the future operations of the MWSC for generations to come. Like them on Facebook here: https://www.facebook.com/maine.Winter.Sports.Center
SlickFish Studios
is a small, creative website design and development company located down by the water in the historic Old Port of Portland, Maine. SlickFish specializes in inspired custom websites, animation & logo design. For more stuff like this check out
our blog
. If you'd like to see some of our professional work please
visit our portfolio
. Also find me on
Facebook
,
Twitter
,
Pinterest
,
Google+
and let's connect on
LinkedIn
.