WE ARE SLICKFISH.
SlickFish Studios is a digital design firm in Portland, Maine.
For more than fifteen years, our focus has been creating quality, custom websites to fit the diverse needs of our clients.
Every project we take on is one-of-a-kind, and every design deserves an uncommon solution.
Your story is unique. We'd love to help you tell it.
READ MORE »
Website Design & Development
Content management, interactive portfolios, slideshow galleries, responsive website designs, e-commerce, SEO challenges, static informational pages. The options are extensive, and whatever your needs, we'll find the answer.
Logo Design
You never get a second chance to make a first impression. Your logo has to be strong in order for your brand message to be clear. We design logos that are clean, modern, and distinct for digital application as well as printed collateral material.
Animation
A little swish and flick adds a lot to a story. Animation is in our wheel house. Whether its a simple gif, CSS, javascript, HTML5 or Flash (our favorite oldie tool), movement will breathe life into your website.
THE BUBBLER: from the blog...
musings, words, inspiration & ideas A place for all of the inspiring, technical, fleeting, nagging, and (sometimes) witty moments that bubble to the surface while working in the web and design world - or just playing in the fine coastal city of Portland, Maine....it's a blog.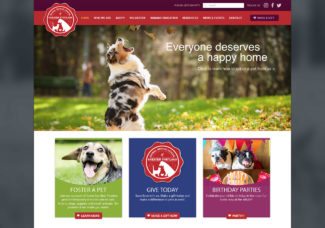 Everyone loves a cute animal photo — but that's not all you'll find on the new Animal Refuge League of Great Portland website. We wrapped up this project with our friends at ARLGP, and are pretty excited to show off this incredible local resource for animals and animal lovers. You can find all kinds of […]